Chelsea had contacted me after she had seen the sweet photos I took of little
Gwendolyn
a couple months ago and wanted to get some family photos done. Gwendolyn and Chelsea's son, Micah, both suffer from Spinal Muscular Atrophy (SMA), the leading genetic killer of infants. Typical babies with SMA Type 1 have a life expectancy of between one and two years of age and they require around-the-clock medical assistance and monitoring. About a month ago, Micah turned one year old and even got a chance to meet Gwendolyn who is now 21 months old. Micah was just diagnosed with SMA 6 months ago and was thought to be perfectly healthy before the diagnosis. The doctors just thought he had weak muscles. The Marshalls were such a cute family and were so fun to be around! Micah's older brother Joseph is such a little ham and a totally sweet older brother!
Ever since I have learned about this horrible disease, I have done all that I can to put the word out and help spread awareness to those around me.
Please take a minute and click below to sign the petition created by Gwendolyn's family to help fight SMA.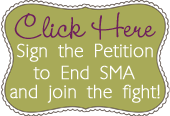 The Strong Family has done a phenomenal job on creating awareness across the entire United States! They are currently on a month long trip traveling across country in an RV with Gwendolyn to meet her 104 year old great grandfather for the first time. While doing so, newspapers and tv stations are following them on their journey and creating awareness through their well-told stories. You can check out this clip done by our own local KEYT news team. (It was so cool to have just sat down to watch the evening news and up pops my cute photos I took of the family)